Bandol is a land dedicated to wine !
Historians believe the first vineyard existed 500 years B.C., when the Phoceans landed there. Some centuries later, the Romans started exporting wines from the area, shipping them from Bandol. That is how the vineyard got its name.On november 11th, 1941, a law-decree granted Bandol wine the A.O.C label (a Certified Label of Origin) and thus certified these great wines' secular fame.
Tempier domain lies there in the heart of these vineyard boundaries.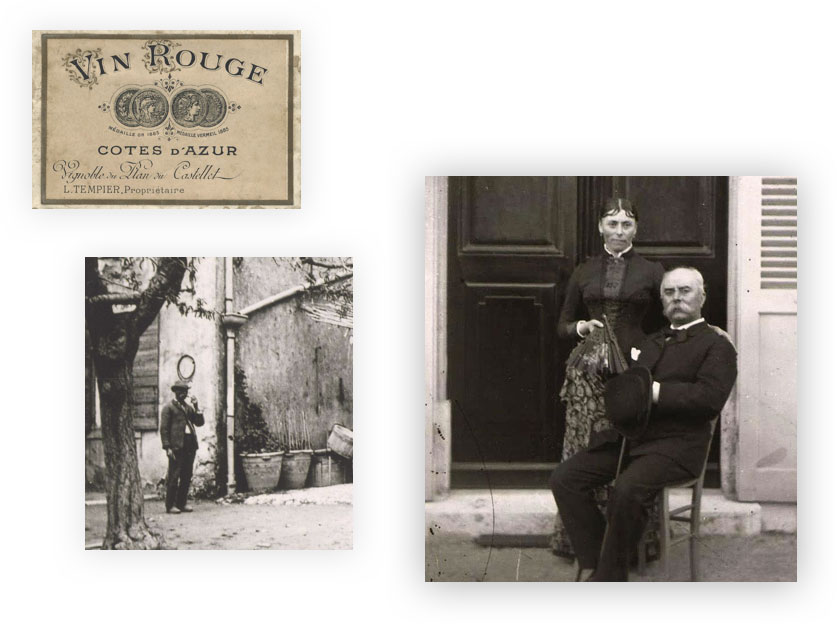 1834
Tempier domain already existed during the reign of King Louis the 15th and the "bastide" was built on the family's property in 1834.
It was soon rewarded as it received its first gold medal a year later in 1835.
1910'-1930'
In 1880, after the phylloxera epidemic had ruined the French wine trade, Léonie Tempier (who was Lucie Tempier's great grandmother) began the renewal by having her vineyard completely replanted on root-stocks, and a cellar built with wooden and cement vats.
However, the 1929 crash caused the wine business to plunge and vines were partly replaced by peach and apple trees.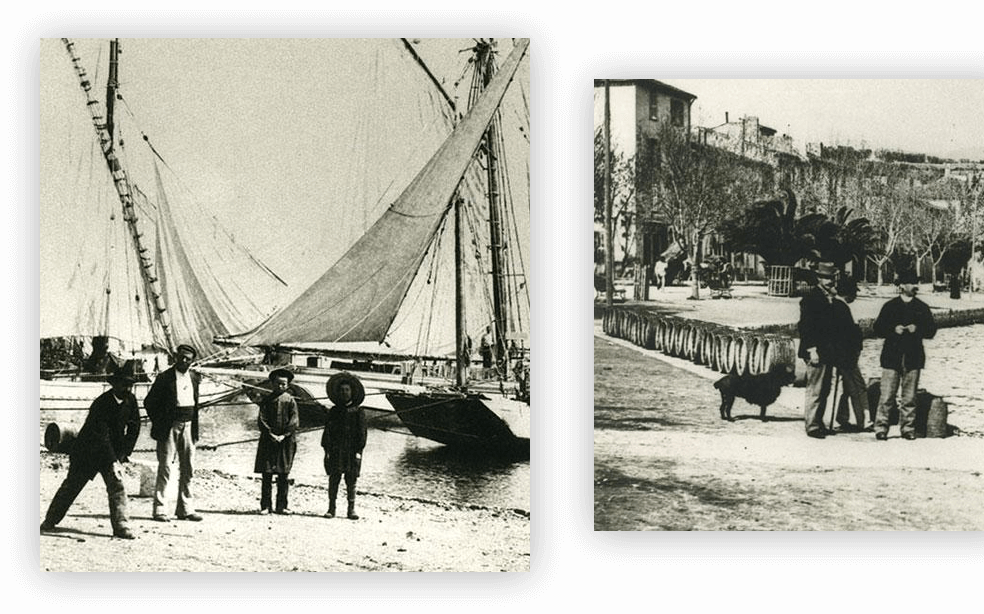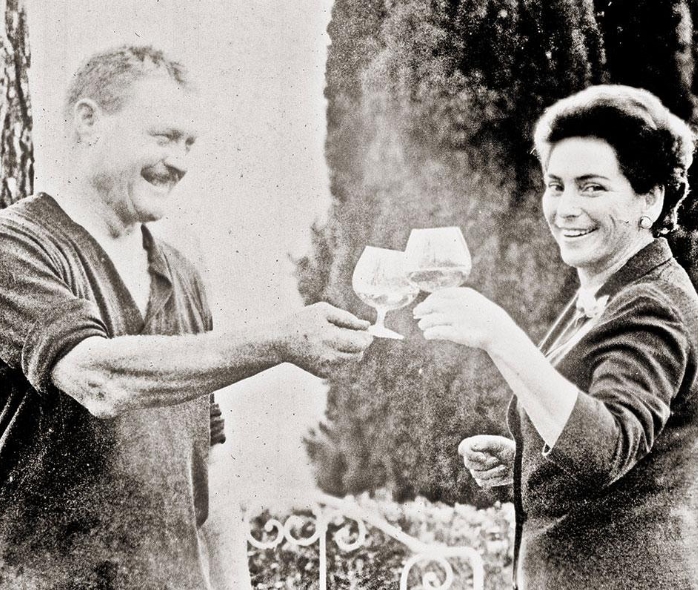 1940
In 1936, Lucie Tempier, whose father was a leather importer in Marseilles, married Lucien Peyraud whose father dealt in silk and ribbons and whose grandfather was a gunsmith in Saint-Etienne, a city close to Lyon. Lucien Peyraud wanted to be a wine-grower. He studied farming in Aix and had several work experiences in the area before he and Lucie settled at Domaine Tempier in 1940, consequently to difficulties due to the beginning of the war.
This was the beginning of a grand epic for Bandol wine, thanks also to the pioneering efforts of Mr Roethlisberger and Mr Perrone, President of the Association to Promote the Bandol Label of Origin. Lucien became a member of the Association's Board, and also of the Tasting Saand Quality Control Commission. Life was difficult at the time since they had neither electricity nor running water. Lucien rode his bicycle to Toulon to attend the meetings.
1943
On October 27, 1943, Lucien Peyraud bottled his first wine; It was a rosé.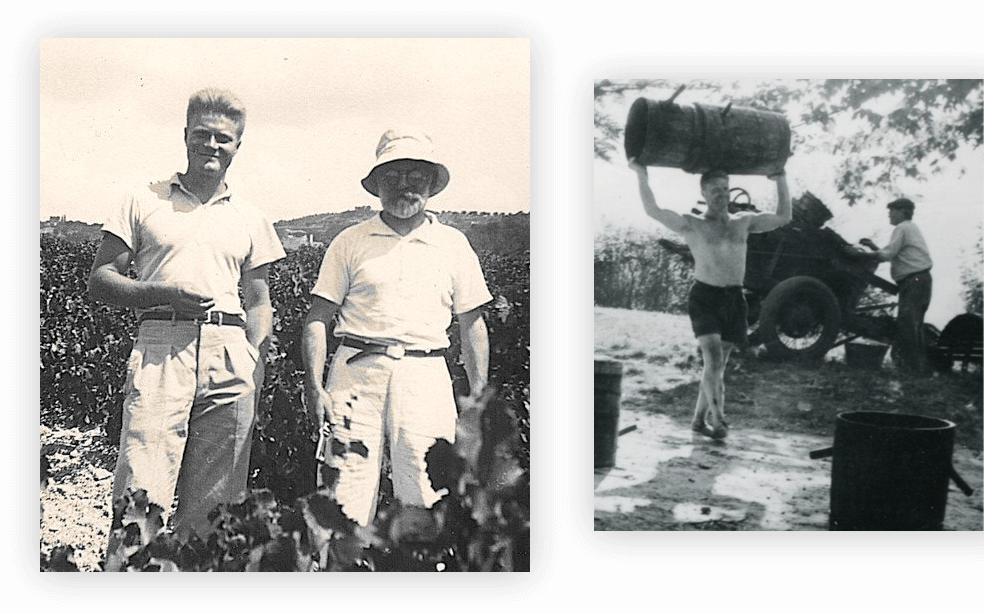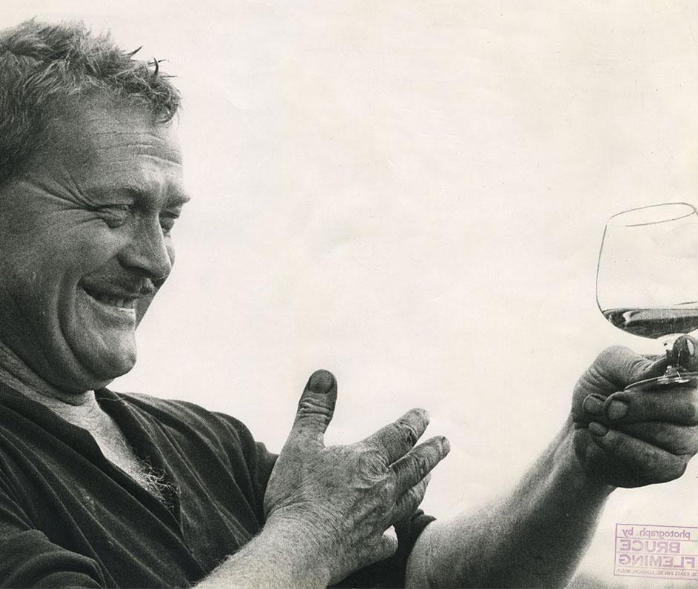 1945
In 1945, he became President of the Association, then he joigned the INAO in 1947. He was also actively involved in the MSA (Mutualité Sociale Agricole) the Farmer Welfare and Pension Association, and the Rotary Club. These activities were time-consuming.
1951
1951 is the year when the first red bandol wine was produced at the domain. The bottle label was designed and drawn by Lucie Tempier's father, Alphonse Tempier. This label with the departure of the wine bottles in tartan boats from Bandol harbour on it has not changed much since then as it embodies the spirit of the domain so well.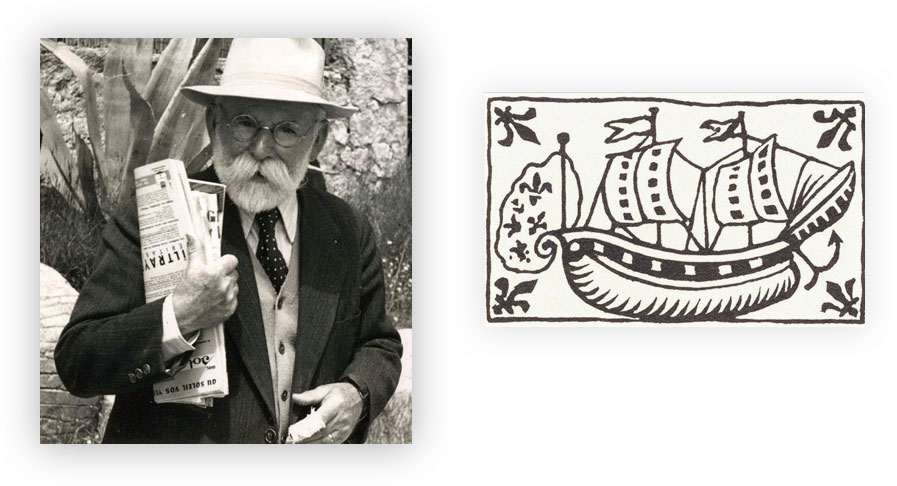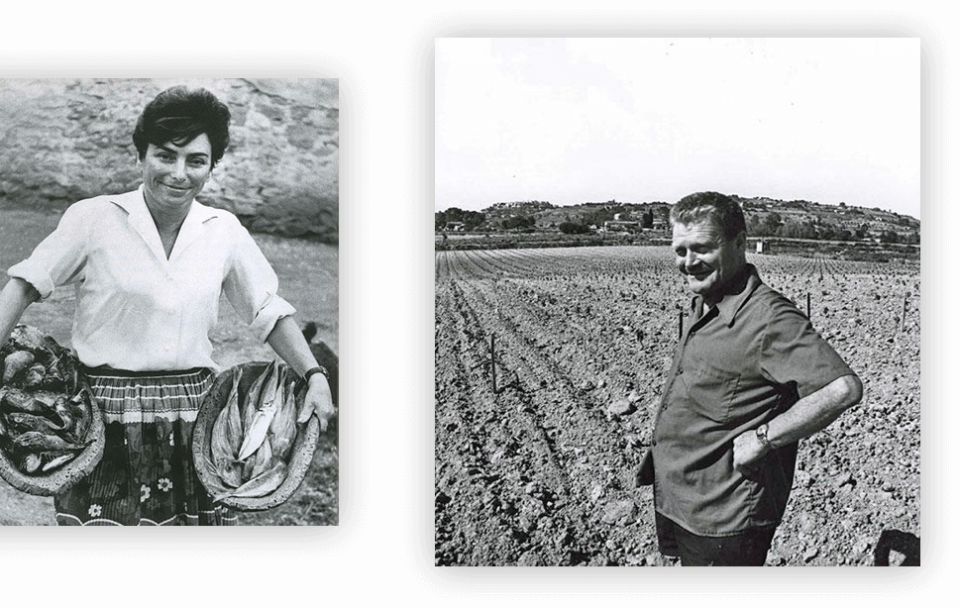 50-70'
Lucien Peyraud spent 37 years in this endeavor. His objective was to have the aging quality of Bandol wine recognized alongside the renown wines of France –Bordeaux, Burgundy, Côte-Rôtie, Hermitage or Châteauneuf wines- by basing it on a major vine – the Mourvèdre. 
During this crusade, thanks to his persuasive efforts, Lucien Peyraud became the spiritual father of Bandol wine. Today, the Mourvèdre dominance has become a reality in the minds of all the Bandol winegrowers.
There were many events organised at the domain.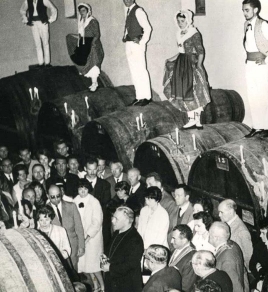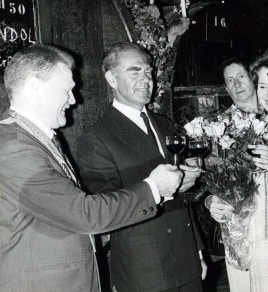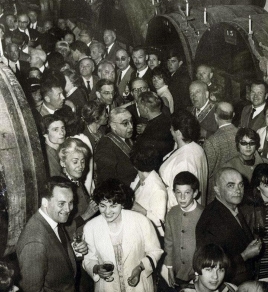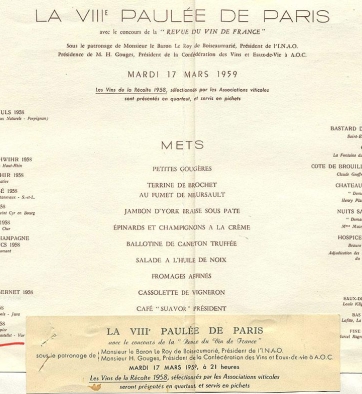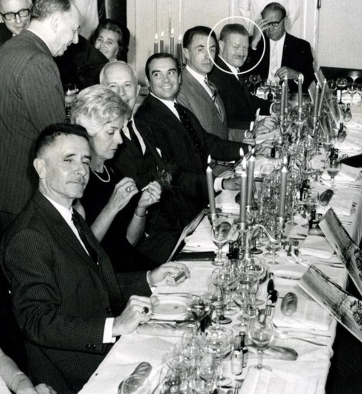 Lulu and Lucien also played a part yearly meetings called "Paulées" and created by Mr Vrinat who owned a restaurant called "le taillevent" in Paris where wine growers showed their wine while having a nice gastronomic meal.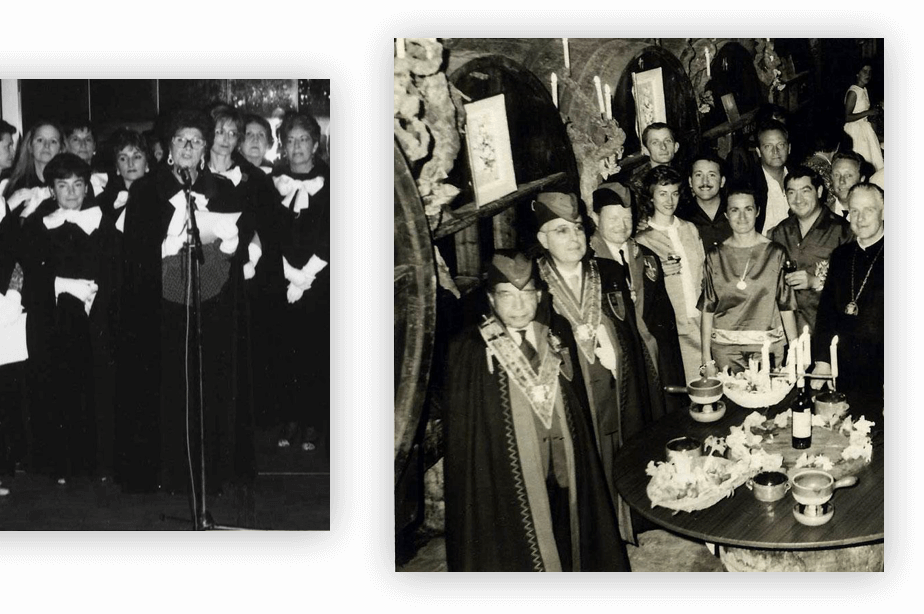 1959
Lucien Peyraud also became the spokesman for the French Mediterranean wines. So much effort! Today it's hard to laughters and joys of that period. The trips with Dr Roethlisberger and Baron Leroy and the wine delivery trips on the Riviera with Countess Portalis ( Château Pradeaux) must have been intense instances of joie de vivre.
As for Lucie, she became a great ambassador selling their wines. She travelled through France to propose wine tasting to restaurants. People liked her hospitality and her famous recipes from Provence. She joined "l'Ordre des Dames du Vin et de la Table" (ODVT) a female Bacchic Order on a national level founded by Madeleine Decure and Odette Kahn, two journalists of "Cuisine et Vins de France" and "La revue des Vins de France" magazines.
Lulu and Lucien travelled a lot during these years to participate in many congresses where they could taste unusual wines such as Hungarian Tokay, Rhine fine wines, Georgian white wines, Californian Zinfandel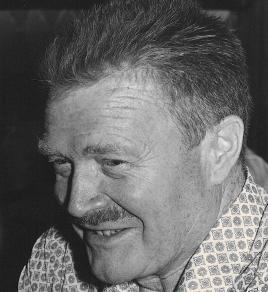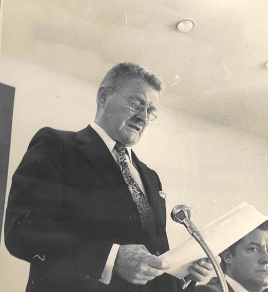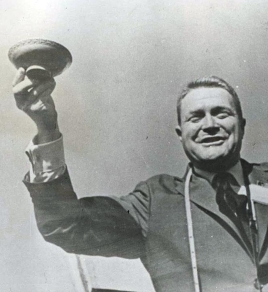 Tempier Domain also became a place where actors and young film directors can meet and share experiences during Hyeres International film festival. Traditional lamb barbecues and our vintages are in the spotlight these days.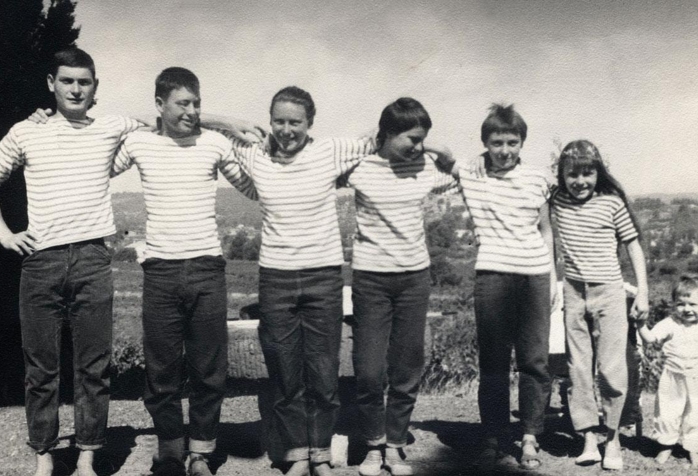 Lulu and Lucien's best harvest are their seven children of course !
1960
In the early sixties, it was a great satisfaction for Lucie and Lucien to have their two sons, Jean-Marie and François, who could join them in their ceaseless efforts to improve and promote the quality of Bandol wine. Jean-Marie was in charge of vinification and marketing while François became a crop manager.
Because they noticed major differences between parcels, they decided to vinify La Tourtine and La Migoua vines separately and later on Cabassaou as well.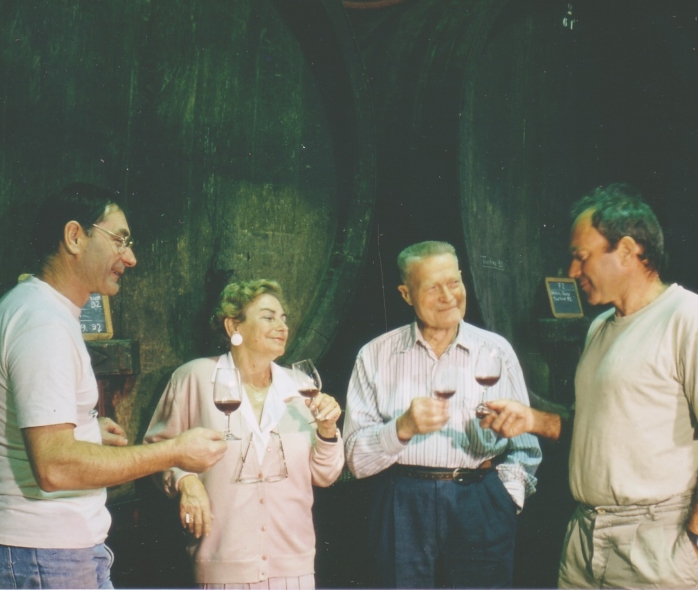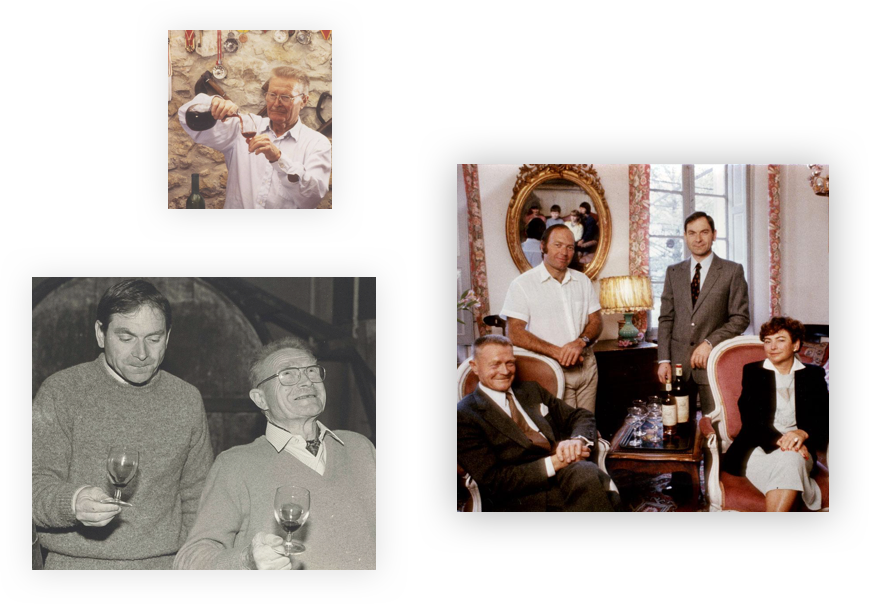 Both sons got heavily involved with their father into the French Wine Academy, in the international Wine Academy and also in other wine brotherhoods such as the "confrérie de la Méduse". Their journeys inspired them, especially in Bourgogne where they discovered the climate. That's how they imagined and created "les Cuvées du Terroir" which still are today the special features of the domain.
That's when they started competing on international markets on which Domaine Tempier acquired a great reputation, especially in the United States.
They additionally established green wine harvest so as to allow the vines to strengthen. 
1968
In 1968, they built a new cellar with their father – la salle des foudres – which offers ideal conditions for long wine ageing in big barrels.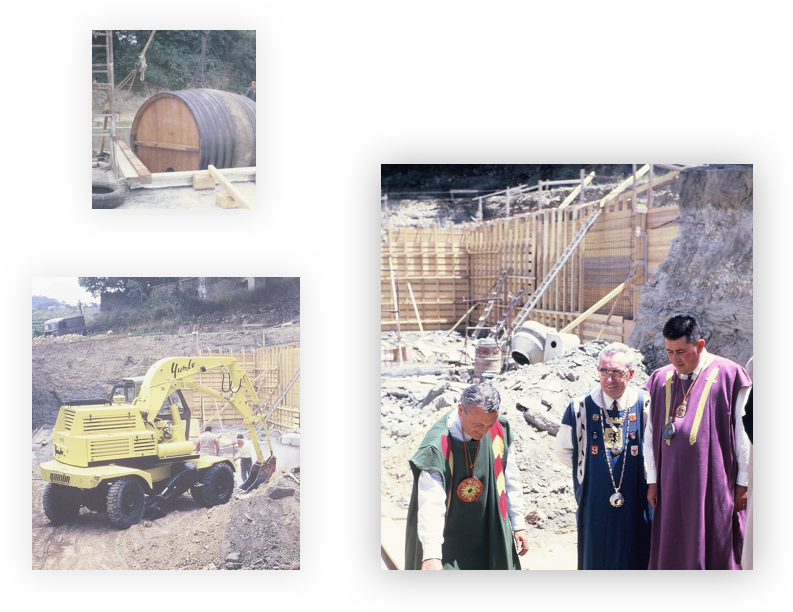 En 2000
Time passing, Jean-Marie and François decided to step down in 2000 and their sisters joined them in the Board of Directors. Fleurine, Marion, Laurence and Véronique are strongly attached to the Domaine, they play an active role in its future. 
… Today
Eventhough Tempier's daily management is now ensured by Daniel Ravier, a passionate young man who has successfully been working with Bandol wine for several years, family members still take up major decisions during board meetings at least five times a year. This new team is ready to accomplish its task to the utmost, that is to maintain the level of excellence of Domaine Tempier and to improve what can still be improved !